Fabrication
Our passion goes beyond supplying McNICHOLS® Perforated and Expanded Metals, Wire Mesh, Bar Grating and other Hole Products. We have metal processing equipment at each of our McNICHOLS® Metals Service Centers and offer fabrication services such as cutting, fastening, welding and polishing, as well as custom-fabricated Stair Treads, infill panels and platforms. We work with you to meet your individual needs and project deadlines.
CUT-TO-SIZE
We carry full sheets and panels in stock at all McNICHOLS locations, or if you prefer, we can cut material to the size you need quickly and accurately. Companywide, we have more than 50 metal processing machines including high-speed band saws, light and heavy-gauge shears, miter saws and other cutting instruments. Whether you need cut-to-length panels, sheets, planks or coils, McNICHOLS can fulfill your requirements. If your job calls for skew cutting, radius patterns, circles, notches or other shapes, we can help! We will provide our products to your specific dimensions and supply blueprint takeoffs, as well as approval drawings.
Not only do we stock full panels, sheets and coils at our Metals Service Centers, we also offer items in smaller, pre-cut sizes. These items are in stock and available for immediate shipment. Many of these items may also be purchased online.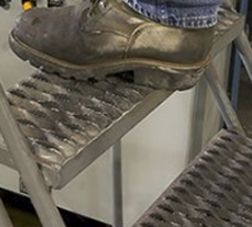 WELDING
McNICHOLS has multiple welders on staff at each Service Center. Our welders are skilled and qualified. Many of them are certified by the American Welding Society, a nonprofit organization dedicated to the advancement of welding worldwide.
Many customers count on McNICHOLS to assemble and weld finished products like railing infill panels and Grating Stair Treads. Our welders are experts at fabricating Steel, Aluminum and Stainless materials. They can also fabricate Grating platforms with custom cutouts, banding and toe plates, all according to your specifications.
STAIR TREADS
We carry numerous styles of Stair Treads in stock for immediate shipment. These include McNICHOLS® Bar Grating, Pultruded and Molded Fiberglass Grating, as well as Plank Grating Stair Treads. If load-bearing capability, corrosion resistance, rigidity, slip resistance or span width are considerations, we have the Stair Treads to accommodate your needs. We have the in-house capability to fabricate Stair Treads in a wide range of material types and in more than 20 styles! Our most popular customer Stair Tread selection is Welded Bar Grating.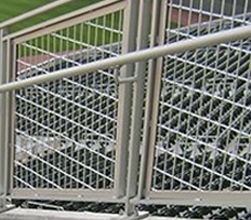 INFILL PANELS
McNICHOLS can fabricate railing infill panels using several of our Hole Products. Our Perforated Metals, Expanded Metals and Wire Mesh (all available in various patterns, opening sizes and gauges) are popular infill choices. Most customers choose a channel (U-Edge) to secure and cover any unfinished edges of the Hole Product selection. We have other edge options, such as Flat Bar or Angle, that can also finish off the look of your custom infill panel. Our welders can cut your edging selection to size, weld the Hole Product into the channel, and grind down welds for a finished look. The result … a quality McNICHOLS framed infill panel ready for installation!
METAL FINISHES
McNICHOLS carries Pre-Galvanized, Hot-Dipped Galvanized or Powder Coated products in stock and ready to go! We can also provide metal finishes as requested. We regularly assist customers with post-fabrication finishing like hot-dipped galvanizing and powder coating to prevent corrosion and to add to a product's longevity. For customers who prefer a finished look, we can anodize Aluminum products and polish Stainless Steel items too!
PRINT TAKEOFFS
Our team of CAD detail experts can perform takeoffs from your drawings or specified blueprints to provide you with approval drawings, as well as erection and field drawings as required. We are happy to tailor our services to your exact specifications. Our Drawing Takeoffs/CAD Services page has additional information.