THE HOLE STORY®
As a young lieutenant serving in World War II, Robert L. "Bob" McNichols vowed that if he came out of the war alive, he would put God first and make Him his partner. Pledges such as Bob's may have been common during wartime, but he meant and kept his.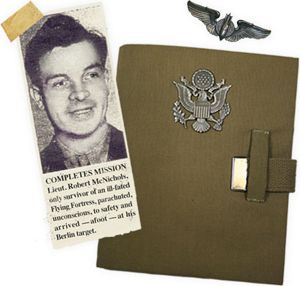 On the morning of October 6, 1944, Bob, a U.S. Army Air Forces bombardier, departed for Berlin with eight fellow crew members in a Boeing B-17 Flying Fortress. Their mission was almost complete when a fleet of German planes interrupted their plans. The fleet took down the mighty aircraft as well as the precious life of every soldier on board, except Bob. As he would tell a newspaper reporter the following year, Bob did not remember much about that morning, nor did he truly recall how he survived.
He described the thrill the crew felt when they spotted Berlin 30 miles in the distance. He remembered opening the bomb doors and concentrating on the approaching target. As the bombardier, he was alone in the nose of the plane when the Nazi fighters struck at 27,000 feet.
"I didn't even know we were hit until I heard the bail-out bell," he said. "We must have gotten it in the wings. When I heard the bell, I released the bombs and rushed back into the body of the ship. Our navigator was lying in a passageway, badly wounded. I had to take off my oxygen mask to try to help him. As I bent over I collapsed, the air was too thin to breathe. That's all I know. That's the last I saw of any of the guys who were my pals."
Bob lost consciousness when he removed his oxygen mask to help his injured comrade. The next thing he knew, he was lying on the ground staring into the muzzle of a farmer's shotgun.
Bob believes he was a swinging target for Nazi snipers as he drifted, unconscious, in his parachute to the ground. "My uniform was full of bullet holes when I came to," he said. "They must have peppered me on the way down, but I didn't have a scratch."