Ruman Racing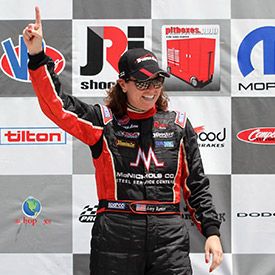 Amy Ruman, a two-time Trans Am Series Champion and driver of the No. 23 McNICHOLS CO. sponsored Chevrolet Corvette, is the granddaughter of McNICHOLS CO. Founder Bob McNichols. She drives professionally for the Ruman Racing team in the national road racing Trans Am Series.
Career Highlights
Achieved her 100th Trans Am race start - November 2018
Third place finish in the 2017 Trans Am - Championship - November 2017
Ruman Racing Crew received the Trans Am - Crew of the Year award - 2016
First woman to capture back-to-back - championships in series history - 2015 & 2016
Recipient of the Trans Am Excellence in Publicity Award - 2013 & 2014
First woman to win a Trans Am race, Road - Atlanta - October 2011
2021 Schedule
09/03 - 09/05 Canceled: Trans Am Championship Round 8 - Canadian Tire Motorsport Park
09/10 - 09/12 Trans Am Championship Rounds 8 & 9 Double Race Weekend - Watkins Glen Intl
09/24 - 09/26 Trans Am Championship Round 10 - Virginia International Raceway
11/05 - 11/07 Trans Am Championship Round 11 - Circuit of the Americas
More About Amy Ruman
Off the Track – Born on January 30, 1974, Amy currently resides in Stow, OH and is the former Owner and Vice President of Cenweld Corp. Truck Bodies and Equipment, a family owned and operated business from 1964-2012. She also is a former Stow-Munroe Falls High school Field Hockey coach where she coached for 9 seasons. She enjoyed being involved with the teens in her community and loved to teach the competition that drives her, always striving to involve young women in competitive sports. Amy is a 1996 graduate of Kent State University, earning her B.B.A. degree in Business Management with a Marketing minor.
You can learn more about the Ruman Racing team on their website.