McNICHOLS
®

Announces Future Expansion of "Hole Network" to Nashville, Tennessee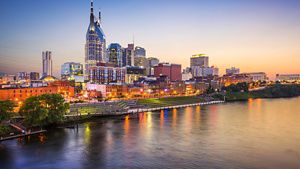 NASHVILLE, Tennessee – January 16, 2019 – McNICHOLS CO. proudly announces plans to expand in the Southeast with a new Metals Service Center, opening summer 2019. The new location, situated near Nashville International Airport, will serve customers in Nashville, Knoxville, Memphis and all of Tennessee as well as areas in Kentucky, Northern Alabama, Northern Georgia, and west to Arkansas.
As one of the fastest growing cities in the U.S., McNICHOLS views the Music City as a natural fit. "We looked at several markets, and noticed strong infrastructure needs in Nashville. Due to the city's increasing economic demands and growing architectural and distribution industries, it became clear where we needed to put down stakes. We are excited to fulfill the growing need for Hole Products in Nashville and surrounding territories, and our customers are equally encouraged we are making a stronger commitment to the market." said Scott McNichols, President.
With this Hole Network expansion, McNICHOLS expects to increase Hole Product accessibility to the area's already-strong customer base and provide metal fabrication services in the growing Southeast market. The company intends to achieve these goals by expanding "The Hole Team" in Nashville with a talented workforce that is Inspired to Serve®. McNICHOLS plans to release additional information related to the branch opening in the coming months.
For press or media inquiries please contact marketing@mcnichols.com.
---
McNICHOLS, headquartered in Tampa, Florida, operates 19 Metals Service Centers strategically placed coast-to-coast with a dedicated staff and communication network in place to serve customers nationwide. The company has the logistics network needed to provide fast, efficient and exceptional service. Family-owned and founded in 1952, McNICHOLS was established on Christian values, high ethical standards and a strong commitment to customer satisfaction.