What is ISO and Why Does it Matter?
You may have seen the words "ISO Certified" on our website, catalogs, or other McNICHOLS materials. We're here to share what this recognition is and what it means for you!
| 2 min read
For us at McNICHOLS, ISO certification is an important achievement of recognition from a respected international body. But it's more than that: it's important to us because it's important to you, our customer, to receive the highest standard of customer satisfaction. That's why we incorporate its principles in all that we do.
ISO 9001:2015 is a global Quality Management Standard (QMS) created entirely with the interest of the customer in mind. The International Organization for Standardization (ISO) 9001:2015 standards are the most updated of their kind, and they focus on quality management systems and performance.
To achieve ISO certification, we must follow a set of principles that "ensure a common-sense approach to the management of business activities to consistently achieve customer satisfaction."
The latest version of ISO 9001 principles put greater emphasis on leadership engagement and assist organizations with identifying risks and opportunities in a structured manner. They also address supply chain management more effectively. There are eight fundamental management principles that companies must demonstrate through intensive audits to earn ISO 9001:2015 certification:
1.       Customer-focused practices
2.       Strong leadership
3.       Meaningful involvement of people
4.       Ensuring a process approach to quality and customer service
5.       A systematic approach to management
6.       A factual approach to decision making
7.       Mutually beneficial supplier relations
8.       Continuous improvement
These principles form the basis for performance improvement and organizational excellence. Our ongoing commitment to these principles translates into our commitment to the customer. The strict adherence to ISO Standards through the McNICHOLS Quality Management System ensures a customer experience of consistency in product, service and performance from all 19 Metals Service Centers nationwide.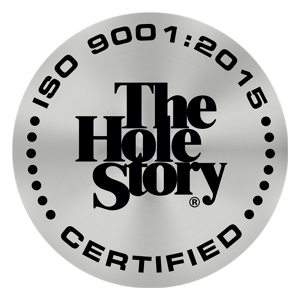 Achieving ISO certification means that we've been designated an authority at what we do – and how we do it. It's all part of our continuous commitment to excellence – a commitment to the customer.
---
Hole Stories is designed to inform, instruct, and inspire readers. Stories composed are for educational purposes only, and proper technical resources should be consulted prior to installation of any Hole Product. McNICHOLS shall have no liability for the informative nature of content shared.