Turf Pedestals: How Fiberglass Grating Plays A Major Supporting Role
Rooftop hangout spots are as popular as ever and astroturf is a common fixture of these attractions. Find out the major role turf pedestals play in creating them.
| 3 min read
Many civil engineers in cities across the world have been tasked with the challenge to utilize the buildings' rooftops as an amenity for the buildings' tenants or residents. One common trend you'll notice with these rooftop hangout spots is artificial grass or astroturf. What you won't notice is what's underneath: turf pedestals. In this blog, we will discuss what turf pedestals are and what benefits they offer.
What Are Turf Pedestals?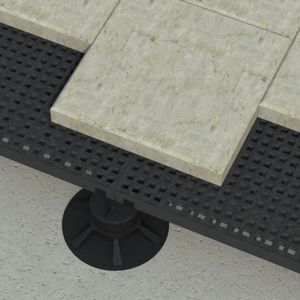 Turf pedestals are physical supports for pavers or astroturf that allow a secondary surface to be installed on top of the roof of a building or on top of a deck. Molded Fiberglass Grating is typically laid on top of the pedestals to create a load-bearing surface that is very resilient. The pedestals and grating combined, create a modular system that can lay out in different patterns and cut to fit any space or existing equipment.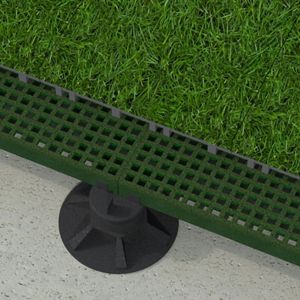 When turf is installed on top of the grating, pedestals allow for the look and feel of grass without the additional weight of natural soil or the constant maintenance required to keep natural grass looking good. The Molded Fiberglass Grating "gives" slightly, offering a more comfortable and natural feeling for those walking on it when compared to turf laid directly on a hard, flat surface. This design choice has many benefits and we explore those benefits below.
Aesthetically Appealing
Because turf pedestals are positioned underneath the turf itself, there is no unsightly building material visible to the end-user. The only thing people will see is the lush green astroturf that can be used for kid's play, entertaining, playing with pets and many other outdoor activities. The pedestals can help level the surface, as well.
Lightweight
Turf Pedestals are commonly made in conjunction with Molded Fiberglass Grating, which is a lightweight building material alternative to Steel or Aluminum. It is corrosion-resistant and fire retardant, making it ideal for the base of an outdoor turf floor. Its lightweight properties allow it to be placed directly on most roofs or decks without additional support. Additionally, the Molded Fiberglass Grating and turf pedestals' relatively lightweight nature makes them easier to transport and install.
Drainage
Installing astroturf directly onto a non-porous surface such as a building's roof or deck is less than ideal. Without a place for the liquid, such as rainwater or pet waste to go, these liquids are absorbed into the astroturf causing the material to deteriorate and produce foul odors. Utilizing pedestals raises the turf off of the surface and the Molded Fiberglass Grating, which has an open area of around 44%, allows those liquids to filter through with sufficient air circulation as well.
Product Specifications
As mentioned previously, Molded Fiberglass Grating is a common product used in conjunction with turf pedestals. The specific product is McNICHOLS® Fiberglass Grating, Molded, Square Grid, MS-M-150 - MINI-GRID®, ADA, Fiberglass, SGF Polyester Resin, Dark Gray, 1-1/2" Grid Height, 3/4" x 3/4" Square Grid - (Top), 1-1/2" x 1-1/2" Square Grid - (Bottom), Grit Surface, 44% Open Area. It comes in 4 feet by 12 feet panels and can be cut to size. Depending on the load bearing application or spacing of the Turf Pedestals, Fiberglass Grating is offered in a variety of other construction types and with different grit surfaces too!
Adding Molded Fiberglass Grating to Your Next Turf Pedestal Project
If you are creating an astroturf-covered deck or adding pavers to the roof of a building, consider using Molded Fiberglass Grating as the base of the pedestals. McNICHOLS is the leading supplier of Specialty Metals, including Molded Fiberglass Gratings in the U.S. and has 19 locations nationwide to serve you. We are Inspired to Serve® and invite you to shop our products today!