DRAWING TAKEOFFS/CAD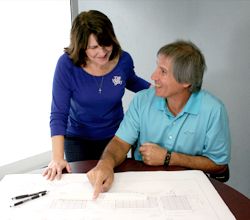 Our effort to exceed customer expectations often involves support of the design process. We can perform takeoffs from your drawings or spec blueprints and provide erection and/or field drawings for approval. Our structural detailing specialists and computer-aided design (CAD) experts can produce multi-dimensional views to help create, modify, analyze or optimize your design. In some cases, we use customer-supplied drawings to fabricate products.
McNICHOLS welcomes takeoffs via conventional delivery, as well as electronic receipt via FTP sites, file sharing sites such as Dropbox or via email to sales@mcnichols.com. We will be pleased to supply approval drawings as a part of the ordering process when you select McNICHOLS as your supplier of choice.
Serving the customer is at the core of our mission, as it has been since Bob McNichols founded the company in 1952. You can count on us to provide you with a service experience you will not soon forget. We look forward to serving you!